Home
›
General Board
Earthen Power - Possible Bug?
<!–– 1941 ––>

INACA
<!–– closing ID=FDP or NOFDP 2001 ––>
Tonight I noticed that when I would use my instant aoe root on my cave shaman Earthen Power would go on cooldown for 10 mins. Why does EP share a cooldown with instant aoe root? Is this a bug?
@Carol_Broadsword
@John_Broadsword
@Lea_Broadsword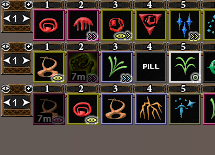 Post edited by INACA on
CATACUSX/Einherjarl - ASATRUAR