Home
›
General Board
WARDEN ± THANE ± PALADIN - proposal's
<!–– 1941 ––>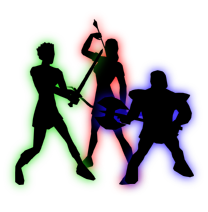 Drakuz
<!–– closing ID=FDP or NOFDP 2001 ––>
i think this needs its own section.
these hybrid classes got hit with nerf's that effected other tank classes as well as these 3.
however, these particular classes are, in terms of pvp effectiveness, no where near as useful as armsmen/champion/warrior/reaver/beserker/valewalker/etc...
quit simply these 3 were the original intended "hybrid tank" classes. they have been hit by widespread nurfs effecting all other melee classes, while these 3 just get lumped in over and over again.
A Paladin's Perspective:
now my particular complain argument is for the shield spec'd paladin, once the block rate cap decreased to 60%, the effectiveness of the class was reduced a lot, as the dps side of paladin is mostly useless as other classess do it better, the utility niche of the paladin's chants are also further made useless with the advent of alchemy tradeskill.
the argument people have made in the past with regards to block rate is that it is a passive effect which is not to say it lends any skill to the gameplay in pvp combat.
so to the overworked underpaid paladin's - thats it huh? run 16chants continuously so people dont cry, and while we are being told "there is something we are doing that is lazy" seriously??... while trying to get positional's off as an option depending on what you do or like to do.
these hybrid classes need serious work, but adding more crap to the workload of stuff we already have is a bad idea also.
also adding more stuff for us to be less useful would also be a silly option.
now, i cant speak on the thane's behalf, they seem more dps focused, but for the warden and the paladin, being more defensive focused innately why not have something like Determination group ward, or added into a chant, heck for that i wouldnt mind having a 17th chant over.
but THIS particular case of (thane/warden/paladin) being less effective has been made over and over again over the course of many many years.
while we take nurfs, we are being told we dont perform well. - then why are we taking these nurfs? its not because we're OP LOL! FAR FROM IT! LOL!
we're not bad in pve, pretty good some of us are awesome. but this is a pvp oriented game, so i dont want to hear this point being raised either.
we're not number 1 either, like we used to be in pve prior to the SI classes. (necro, animist, bonedancer.)
so as new additions to the game pour in over time, over every single patch, those 3 classes, get pushed to the bottom over and over.
to repetitively being told "your not good enough, here this nurf's for you

" yes, with a smile...
if you dont believe me, look at the evolution of this game, from the beginning, and look at every patch. every expansion, every bonus, every nurf.
it has all resulted in 1 thing, pushing these 3 down, while others rise.
we have been on the repeat plz nurf me list.
once upon a time, number1 in pve. now we're... somewhere in the bottom QUARTER of choices in a group.
yes, part of this is due to player education, not knowing how useful a well played paladin can be.
how useful someone who is used to typing fuor hnudred wrods per mniute in group can be.
someone willing to work his
@#$
off to make a group do well. - yet receive the same annoying comments with regards to being a less desirable class.
i hope i made my case pretty clear, and i hope someone gives it some serious thought.
i would like to hear more about this from a Warden's and a Thane's perspective as well. - because we all got boned equally.
Do these classes deserve a change?

8 votes

Yes, they have been held back far too long!

62.50%

No i like the new nerf patch for chants reducing overall effective stats

37.50%

Would a group Determination chant/buff help these classes in pvp effectiveness?

8 votes

Yes, this is what this class needs to be more useful in rvr!

37.50%

No, this would create imbalance rending them so OP it would make other's cry.

62.50%

How do you like the changes to Chants?

8 votes

i enjoy having all of my overall effective resists lowered.

25.00%

i enjoy being lazy and having less work to do.

75.00%

do these classes need more assistance? while rolling back the previous bufff (nurf) ?

8 votes

I think these classes are just fine. i like not having them in 8man's

37.50%

please give this class group some love.

62.50%

how should thane be fixed?

8 votes

Add Survivability

37.50%

Add Dps

&nbsp

0.00%

stronger Utility

37.50%

group determination buff

25.00%

how should the warden be fixed?

8 votes

Add dps

50.00%

Add survivability

&nbsp

0.00%

stronger Utility

50.00%

how should the paladin be fixed?

8 votes

add DPS

12.50%

add Survivability

37.50%

stronger Utility

50.00%

should block rate for paladin / warden / thane be increased for pvp?

8 votes

yes

50.00%

no

50.00%

should parry rate for paladin / warden / thane be increased?

8 votes

yes

25.00%

no

75.00%

should the paladin / warden / thane offer stronger resists to group?

8 votes

yes

50.00%

no.

50.00%